The Handbook of Security Third Edition has been published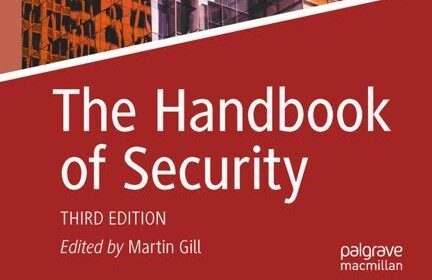 The third edition of the Handbook of Security, edited by Perpetuity Research Director Martin Gill, has been published.
The book contains 45 contributions from the leading scholars in the world, topics cover a vast arrange of issues from security and the margin footprint; the ways security is portrayed in films; the economic case for security; evaluations of different Security approaches; and the role of security in tackling a range of offences from burglary to terrorism to money laundering too corruption to name but a few.
There are two new sections with chapters looking at 'Better Security' and the 'Impact of Security'.
The book has received positive reviews:
"Dr. Gill continues to leverage his extensive knowledge and expert contacts to provide practitioners and academics alike a strong resource as they learn and plan." (Read Hayes, Research Scientist, University of Florida, USA, and Director, Loss Prevention Research Council)
"Martin Gill, in this the third and very welcome edition of the Handbook of Security, has skilfully curated a masterful review of developments in a rapidly evolving field of enquiry that has been, and is being, constantly reshaped by the novel harmscapes that have emerged as a defining feature of 21st century existence." (Clifford Shearing, University of Cape Town, South Africa and Griffith University, Australia)
The Handbook of Security Third Edition is available from SpringerLink, Amazon, and all good retailers.