New Research Launched – Enhancing police resources in the fight against economic crime cost effectively: harnessing the potential of the private and not-for-profit sectors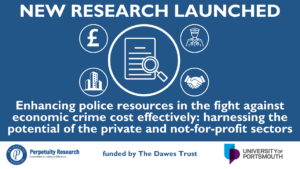 Perpetuity Research has received funding from the Dawes Trust, along with the Centre for Cybercrime and Economic Crime at Portsmouth University, to undertake research exploring the opportunities that exist in the private and not-for-profit sectors for the police to utilise in order to tackle economic crime more effectively. Economic crime, although the largest category of offending and costing society billions of pounds every year, remains a low police priority. Police resources are limited, and the increasing complexity and diversity of economic crime present further challenges to policing capacity and capabilities.
In contrast, the private and not-for-profit sectors boast significantly greater resources than the police, with a variety of personnel involved in tackling economic crime, often acting in isolation from law enforcement. Nonetheless, there is potential for collaboration between the police and these sectors, which could also prove cost-effective; however, this potential has never been systematically explored. Our research will, therefore, identify and map the types of activities and expertise that exist within the private and not-for-profit sectors for tackling the fraud problem, which could benefit the police. We will assess to what extent the police can engage with these sectors and highlight any obstacles that currently impede this untapped potential. Finally, we will draw out case studies that demonstrate best practices and consider what a strategy for 'partnering' engagement might look like.
If you are involved with or are aware of any partnership activities established to tackle fraud, whether in detecting and preventing fraud or supporting victims, we would be interested in hearing from you. Please contact Dr Janice Goldstraw-White at j.goldstraw-white@perpetuityresearch.com, our lead researcher on this project.