About
Nigrán Perpetuity Research is a leading research company with wide expertise in both quantitative and qualitative approaches. We have been extensively involved in evaluating 'what works' (and what does not). Our work has involved helping our clients to understand people's behaviours, perceptions and levels of awareness and in identifying important trends. Our mission statement is 'committed to making a difference', and much of our work has a practical application in terms of informing decision making and policy formulation.
We work closely with our clients. This includes businesses, national and local governments, associations and international organisations as well as charities and foundations. Our aim is to exceed their expectations and it speaks volumes that so many have chosen to work with us repeatedly over many years. We are passionate about our work and we would welcome the opportunity to work with you.
Staff
Martin Gill

Professor Martin Gill is a criminologist and Director of Perpetuity Research which started life as a spin out company from the University of Leicester. He holds honorary/visiting Chairs at the Universities of Leicester and London. Martin has been actively involved in a range of studies relating to different aspects of business crime including, the causes of false burglar alarms, why fraudsters steal, the effectiveness of CCTV, the victims of identity fraud, how companies protect their brand image, the generators of illicit markets and stolen goods, to name but a few. Martin has been extensively involved with evaluation research and with the offender's perspective looking at how they target certain people and premises and aim to circumvent security measures.
He has published 14 books including the second edition of the 'Handbook' of Security' which was published in July 2014. Martin is a Fellow of The Security Institute, a member of the Company of Security Professionals (and a Freeman of the City of London), he is a member of both the ASIS International Research Council and the Academic and Training Programs Committee and a Trustee of the ASIS Foundation. In 2002 the ASIS Security Foundation made a 'citation for distinguished service' in 'recognition of his significant contribution to the security profession'. In 2009 he was one of the country's top 5 most quoted criminologists. In 2010 he was recognised by the BSIA with a special award for 'outstanding service to the security sector'.
In 2015 and 2016 he was nominated and shortlisted for the Imbert Prize at the Association of Security Consultants and in the latter he won. In 2016 ASIS International awarded him a Presidential Order of Merit for distinguished service. In 2016 IFSEC placed him the fourth most influential fire and security expert in the world and in the same year he was entered onto the Register of Chartered Security Professionals. Martin is the Founder of the Outstanding Security Performance Awards (the OSPAs).
---
Charlotte Howell
Charlotte joined Perpetuity Research in January 2009, and is currently the Research Manager – responsible for managing the delivery of research contracts, and our team of research staff. She also manages the Secured Environments scheme run by Perpetuity Research on behalf of Police CPI.
Charlotte is an accomplished project manager with experience of working with a range of clients including businesses, associations, police forces, government organisations and charities. Charlotte's knowledge and experience spans the range of our areas of expertise – including crime prevention and community safety, security research, and the social aspects of health research. Charlotte is also actively involved in delivering fieldwork and has consulted with a range of individuals, including stakeholders (such as individuals from the police, local authorities, service commissioners and staff), offenders (both in prison and in the community) and clients accessing services (such as drug and alcohol treatment services, domestic abuse services and support services for sex workers).
Charlotte is adept at quantitative analysis and has a wealth of experience analysing survey responses, client/service data and performance/outcomes data. Prior to working for Perpetuity Charlotte graduated from the University of the West of England with a first class LLB (Hons) in Law in 2003. Following this she received a MSc in Criminology from the University of Leicester.
After graduating Charlotte worked for the Leicestershire Criminal Justice Drugs Team, analysing and reporting on Class A drug misuse and treatment information, to maintain and improve performance.
---
Caitlyn McGeer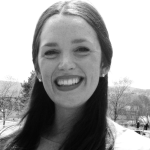 Caitlyn works as a Researcher, having joined Perpetuity Research after earning an MSc in Criminology and Criminal Justice from the University of Oxford with distinction. During her MSc, Caitlyn focused on criminal justice monitoring and evaluation protocol, cultivating an expertise in quantitative platforms such as SPSS and GIS. Caitlyn is equally skilled in qualitative methodology: interview, ethnographic, and visual methods.
Caitlyn has extensive research experience in both domestic and international projects, specifically focusing on facilitating strategic public sector development and the establishment of the rule of law. Beyond academia, her professional background has centred on public-sector communications, risk management, and project development, coupled with advocacy and campaigning capacities. She is a communications specialist and an intuitive project manager.
Caitlyn has worked with community development initiatives in Ecuador, Ghana, and Guatemala. Aligning with her professional background, Caitlyn's current role at Perpetuity is focused on a project called "Education For Justice" with the United Nations Office on Drug and Crime.
---
Josephine Ramm
Josephine is a highly adaptable social researcher with expertise in both qualitative and quantitative research methods. She has considerable experience and interest in working with young people, hard to reach groups and in conducting research concerning sensitive topics.
During her career she has conducted research on behalf of a diverse range of organisations including the Department of Health, Youth Justice Board, Alcohol Education Research Council, fpa (formerly Family Planning Association) and various private clients including national financial institutions and prominent academics.
Josephine began her research career working in the fields of sexual health and alcohol misuse and has since developed her interests to include crime, health and well-being, programme evaluation and participation. Josephine has a background in psychology and holds a BSc in Psychology from the University of Exeter, an MSc in Health Psychology from the University of Sussex and is pursuing further studies in humanistic psychotherapy. 
---
 Hannah Miller
Hannah joined Perpetuity Research in 2018 as our Business Assistant. She completed her Degree in Human Geography at Newcastle University and is now expanding her skills with Perpetuity in Business and Events. This year she attended the UK OSPAs event in March and is helping set up all eight OSPAs internationally. She is working on expanding the awards scheme to even more countries worldwide.
---
Claire Tankard
Claire joined Perpetuity Research in 2019 as our Senior Administrator, bringing with her 15 year's experience in customer service and administration. She gets involved in all areas of the business and keeps the office running smoothly. She helps the OSPAs and TECAs team organise their events and provides administrative support to everyone at Perpetuity Research.
---
Sarah Webb
Sarah Webb has been a social research and evaluation consultant since 1995. Sarah has completed a number of significant projects, for Government departments, local authorities, and national umbrella organisations mainly involving the criminal justice service, substance misuse and mental health. Sarah has been involved in a number of national evaluations including the Challenge and Support Programme (DCSF), the Youth Inclusion Programme (YJB) and the DNA Database Expansion Programme (Home Office). She was also a member of the senior management team for the MOJ/ YJB flagship project, the Juvenile Cohort Study.
Most recently, Sarah's work has largely been focussed in the areas of policing, organised crime, illegal immigration, youth crime and anti social behaviour, education and inclusion and railway suicides. Sarah's particular area of expertise is in qualitative research and evaluation and she has considerable experience of overall project design, developing questionnaires, conducting interviews, facilitating focus group, analysing qualitative data using software packages such as NVivo and MaxQDA and report drafting including published research papers.
---
Janice Goldstraw-White

Janice is a criminologist with expertise in the areas of crime, governance, audit, risk management and security. With more than 20 years' experience as an accountant, mainly in the public sector, she is particularly interested in crime in the workplace, fraudster behaviour and the role of women in white-collar crime.
She has extensively researched in the area of white-collar crime both here and in Australia, with a focus on offender accounts of criminal behaviour. She has particular experience in interviewing within prisons and has undertaken over fifty interviews with incarcerated white-collar offenders.
Janice has published a number of articles and co-authored separate chapters in books on workplace crime and the motives of white-collar criminals. Her own book entitled 'White-Collar Crime: Accounts of Offending Behaviour' was published in October 2011.
---
Dr Rachel Horan

Dr Rachel Horan is a Chartered Psychologist and Associate Fellow of the British Psychological Society with dual and complementary academic and practice expertise. She works as an independent consultant.
Rachel has wide ranging experience of research, evaluation and process management across numerous criminal justice agencies in government and NGO settings. Her applied abilities lie in conducting and translating research into evidence-based practice and service development, responsive to the field and its operational demands.
Rachel's research interests include the psychology of group engagement and group enabled violence, conflict, post conflict transition, peace building and prevention approaches, particularly the prevention of group engagement and group enabled violence by early identification and awareness of vulnerabilities. At a tertiary level, her expertise lies in multi-agency intervention approaches to violence reduction. She is also an Associate Lecturer, teaching in these and related areas.
She is an experienced youth justice manager and her previous roles include the National Offender Management Service and the Home Office Ending Gang and Serious Youth Violence peer review network. She is also interested in children's rights and the inclusion of strengths based, positive psychology approaches when intervening with children and young people who offend.
Rachel is a skilled and experienced quantitative and qualitative researcher and evaluator and has conducted wide ranging research and evaluation studies across criminal justice and applied areas in international development. She is an experienced performance analyst and is familiar with a number of criminal justice area data bases. Rachel is also an experienced training developer and facilitator.
---
Alix Naylor
Alix Naylor is a psychologist and criminologist who works as a freelance data analyst in the social science sector, employing SPSS programs, with which she has over 10 years experience. Prior to working as a freelancer, Alix worked in for an employee research company analysing employee opinion surveys, primarily running key driver analysis but also frequently using factor analysis and cluster analysis.
As a freelancer, Alix has worked in a wide range of areas, both public and private sector, with projects including social sustainability research, intervention studies and consumer analysis. In addition to this Alix runs IBM certified training courses in statistical methods and applying these in SPSS Statistics and SPSS Modeler.
---
Sylvia Chenery
Sylvia is the Managing Associate of the Applied Criminology Associates. She is a former university strategic Research Manager who had responsibility for a team of researchers, generating research income from a wide range of funding bodies. She played a key role in the recognition of the phenomenon of repeat victimisation at a National and International level, and has extensive knowledge of offender targeting strategies, and has evaluated a number of prolific offender projects which in turn influenced the development of the Home Office Persistent and Prolific Offender Programme.
She has worked for over 20 years with Police and Criminal Justice Agencies and is frequently requested to speak at conferences and seminars and to act as consultant to Police Forces and their criminal justice partners. Her background also includes supervision and management of field research teams, and has been involved in both small scale and national evaluation projects. Her training as a former social worker has proven invaluable in her work as a qualitative researcher, enabling her to use her expertise in often extremely sensitive interview situations. She has used these skills whilst working in particularly sensitive areas, such as the Home Office 'Tackling Gangs' programme, evaluation of the Proceeds of Crime Act, and numerous offender resettlement projects.
She has been a member of Local Authority 'Scrutiny Panels', and has acted as an assessor for national police training. Training continues to play an important part of her national and international work, and she places considerable emphasis on the importance of drawing upon up-to-date practices and policies. She has been a visiting expert to the National Policing Improvement Agency, providing input to the International Strategic Leadership Programme, and is the Problem Oriented Police and Partnership advisor to the Bermuda Police Service, and is a trainer for the Abu Dhabi Community Police Crime Science Institute.